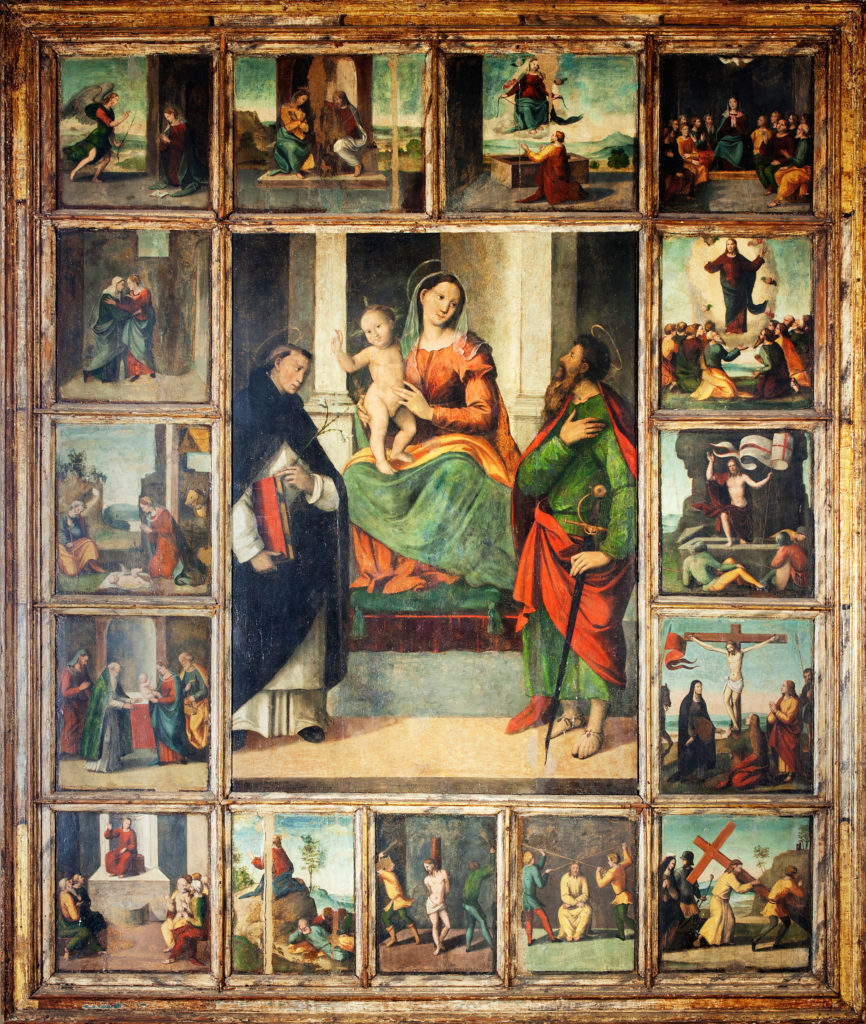 19 Jan

Hall of Sigismondo and Isotta

The Hall of Sigismondo and Isotta was originally more modestly sized, but today it combines the space of two or more rooms, one of which in the 1700s was used as a chapel. In the south wall traces of the drawbridge that allowed access to the main tower are still visible.

The frieze that runs seamlessly along the base of the majestic wooden ceiling is decorated with the faces of the couple Sigismondo and Isotta, framed within two classically inspired garlands and supported by human and phytomorphic figures that hold the shields bearing the Malatesti arms: the three heads called the "maleteste", the chessboard, the elephant, the crested unicorn, the four-petalled rose and the griffin.
The ceiling, elegantly painted in red, blue and gold, is decorated as fake lacunar and was finished in 1927 as indicated by a graffiti in the frame.
As for the furnishings, of particular note is the large cabinet from the sacristy of the eighteenth century, while on the walls there are two paintings from the seventeenth century, of unknown origin, with the likely portraits of the Malatesti family members. Located on the east wall is the Madonna and Child with Saints Dominic and Paul and the Mysteries of the Rosary, attributable to the workshop of Bartolomeo and Benedetto Coda, painters from Rimini.
Madonna and Child with Saints Dominic and Paul and the Mysteries of the Rosary, early sixteenth century
Portrait of Isotta degli Atti
Portrait of Sigismondo Pandolfo Malatesti